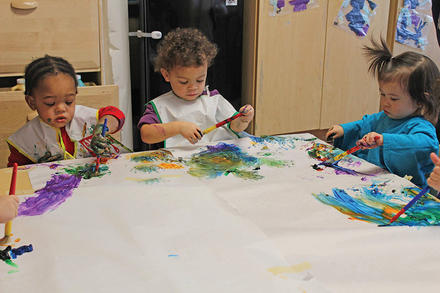 Most people are aware that practicing yoga has many positive impacts on adult health and wellness. But did you know there are countless benefits for children as well? According to Nikki Waldron, Director of Luthercare for Kids – Lancaster, even children as young as one and two can benefit from yoga.
"Children have overactive minds and imaginations," says Nikki. "Sometimes they harness that energy internally, and that can be a struggle for them. Yoga helps channel that energy into a safe, calming space, eventually helping them realize they
are in control and can quiet their minds and calm themselves."
Yoga is just one example of how Luthercare for Kids Early Learning Centers help children build self-worth and confidence. "Emotional well-being is an important part of the foundation children need for school, life and success," says Lorita Valente, Luthercare Executive Director of Community Programs. "As early childhood educators, our job is to make sure children know they are important and provide them with a safe, nurturing environment where they can learn and grow. This can be accomplished through the way we talk to them, greet them and help them manage their emotions – and through physical activity, art and play."
"Building self-worth and confidence is vital – and it begins with how our brains develop," adds Nikki. "We help children develop emotion and impulse control, as well as reasoning skills, by providing them with a safe and predictable environment. Teachers build strong relationships with the children and, through these bonds, we can start purposefully building their self-confidence."
Nikki says that validating a child's emotions makes him or her feel like they are being heard. "We use positive guidance techniques, so children don't feel ashamed when they make mistakes; rather, they engage in a teachable moment about the consequences of actions and alternate strategies to use next time."
Luthercare for Kids teachers also provide opportunities to channel children's thoughts and feelings through initiatives like yoga and free art. Free art is practiced in every age group at Luthercare for Kids centers because it has many positive effects on a child's character and personality. "Art promotes creativity, confidence, problem-solving, patience, determination, accountability and teamwork," says Nikki. "Our free art activities are so important in helping children feel in control, just as yoga helps them learn control over their bodies."
Luthercare for Kids' commitment to child development and learning goes beyond its centers' walls. Luthercare is a partner in the SAIL – Systems Aligned in Learning – Mentoring Program. SAIL is a United Way of Lancaster County Community Impact Partnership. Partners include Penn Medicine Lancaster General Health, the Library System of Lancaster County and COBYS Family Services. The partners work collaboratively to help ensure home-based child care providers receive the same academic and developmental support as children who attend center-based child care.
SAIL partner Penn Medicine Lancaster General Health is currently working on executing a new initiative that will provide SAIL mentors with "fitness tubs" to distribute to in-home providers. Each tub contains 16 games and activities designed to boost physical activity in a fun, non-overwhelming way.
"The tubs contain the supplies, tools and instructions providers need to facilitate the games and activities," says Heather Rotella, a Health Promotion Specialist at Penn Medicine Lancaster General Health. "In addition to helping children foster a love of physical activity, the games are designed to help children develop social, emotional and teamwork skills as well."
Lorita says the "fitness tubs" initiative will be rolled out in March after providers are fully trained and prepared on how to effectively utilize the tubs.
Through all of these very intentional teaching strategies, teachers and providers are giving the children the tools they need to be successful throughout life, says Nikki. "We are encouraging children to be independent and showing them they have control over their actions. Our ultimate goal: Provide children with the feeling of self-worth they need to ensure they become successful and competent learners."