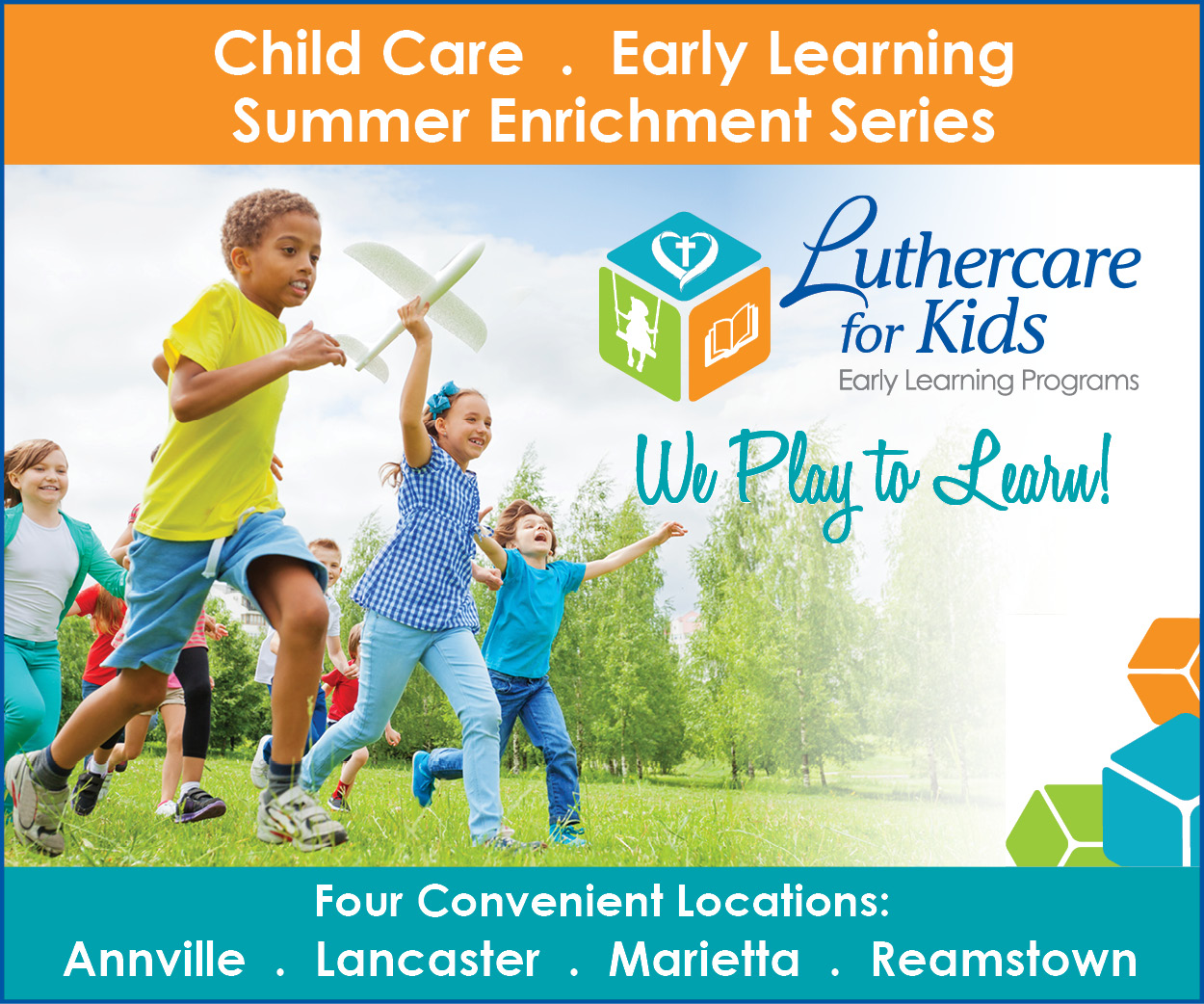 A chef. An actor. An engineer. At Luthercare for Kids' Summer Camp Series, your children can be all of these! They can spend a week – or the whole summer – focusing on science, the arts, foods and more! Our fun and educational summer series, for kindergarten through school-age children, is taught by experienced teachers in a safe, supervised environment at our Luthercare for Kids locations in Marietta and Reamstown in Lancaster County and in Annville in Lebanon County.
Space is limited. The Summer Camp Series, which runs from June 11 through August 16, is a full-day program for children from Kindergarten through school-age.
Enjoy a daily routine that includes meals, free choice periods, outdoor time, activities and events specific to each program based on the child's interest. All programs are licensed and run by experienced teachers with training/credentials in early childhood education.
The schedule for the summer is, as follows:
Kids Choice/Getting to Know Camp (Week of June 11* Camp runs Tuesday through Friday): This opening week, we will be getting to know one another, finding out our likes and dislikes, and preparing our campers for a wonderful summer!
STEM Camp (Week of June 17): Campers will focus on various hands-on and engaging Science, Technology, Engineering and Math activities!
International Cooking Camp (Week of June 24): By far our most popular camp! Don't miss this opportunity to make and try delicious dishes from all over the globe.
Community Service Camp (Week of July 1* Camp will not operate on Thursday due to the July Fourth holiday.): This week's camp encourages giving back to the community around us. We will be volunteering our time in service in our local communities.
Visual Arts Camp (Week of July 8): Campers will explore various media in an open art studio format.
Science Camp (Week of July 15): Campers will explore the exciting world of science, by conducting various experiments and activities throughout the week.
Sweet Treat Week (Week of July 22): Our campers will be slated to win the Best Baker Award! They will be baking, decorating and creating their own sweet treats.
Arts (Literature, Music, Performance, and Film) Camp (Week of July 29): If your child likes to read, write and perform, this is the week for them!
"Minute to Win It" Camp (Week of August 5): A total hit! Campers will be challenged to accomplish tasks with common items during this week of fun – all in a minute or less.
Kids Choice/End-of-Summer Activities Camp (Week of August 12): Campers will revisit their favorite experiences of 2019 summer camp and carry out their favorite activities!
To enroll, contact the Center Director at the following locations:
Annville 717.867.4660
Marietta 717.604.1865
Reamstown 717.336.3233