Luthercare began its work in childcare in the 1990's. As childcare and early learning needs grew among members of area congregations, Luthercare expanded its mission and responded to those needs. Luthercare's first center, Lebanon Valley Child Care and Learning Center began on the campus of Lebanon Valley College, Annville in 1991. In 1996, the center moved to 40 S. King Street, Annville and in 2003 became the Emma C. Berger Child Care and Learning Center, through a bequest from Miss Emma Berger. Over the next 12 years, Luthercare opened four more centers.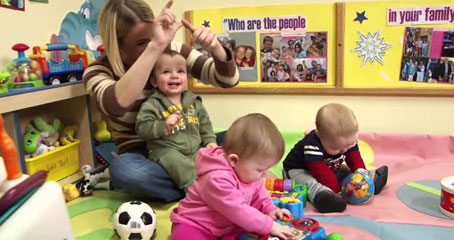 Our Centers
All centers participate in the Keystone STARS Program. Keystone STARS is an initiative of Pennsylvania's Department of Human Services (DHS) Office of Child Development and Early Learning to improve, support and recognize the continuous quality improvement efforts of early learning programs in Pennsylvania.  In 2007 Luthercare was awarded two Pre K Counts classrooms—fully funded, prekindergarten programs designed to help working families access a high quality early learning program to best support their child's healthy development and learning in preparation for school entry.   Since 2007 Luthercare has more than doubled the number of Pre K Counts classrooms and now offers a Pre K Counts program in each of its early learning centers.  In 2015 Luthercare was again the recipient of a competitive state process that resulted in Luthercare for Kids being awarded funding to operate Early Head Start classrooms in Lebanon, Lancaster and Columbia.  Both the Pre K Counts and Early Head Start programs are operated in partnership with the long-standing support of the Lancaster-Lebanon Intermediate Unit 13.
Luthercare initiated its Family/Group Child Care Provider Mentoring programs in 2002 in Lebanon County, and in 2004 in Lancaster County, with funding from the United Way in each county. This program was designed to help home-based child care providers learn the child care business, offer them resources and equipment, help set goals for the provider as well as provide ongoing encouragement and support. Participation in the program affords home-based providers of child care access to professional resources and early learning classroom materials through a traveling resource van.  In 2015 the Mentoring Program was reconceived with funding from United Way of Lancaster County to pursue the bold goal of helping 100% of Lancaster's children be kindergarten ready.  The program has transformed into a collective impact partnership known as SAIL (Systems Aligned in Learning) that includes working in tandem with the Library System of Lancaster County, the Lancaster County Council of Churches, COBYS and multiple school districts to support home-based child care providers and the families they serve.
In Lebanon County, Luthercare serves as administrator of Child Care Information Services (CCIS). CCIS is a DHS program that serves as a hub for childcare information, helping families receive all of the services for which they are eligible and access all needed resources in a community.
Luthercare also serves as the administrator of a regional training agreement from the Office of Child Development and Early Learning that provides year round training opportunities for early childhood professionals in Adams, Centre, Clinton, Cumberland, Dauphin, Juniata, Lancaster, Lebanon, Lycoming, Mifflin, Northumberland, Perry, Snyder, Tioga, Union, and York Counties.
In 2012 Luthercare Child Care Programs was renamed Luthercare for Kids to reflect the comprehensive commitment to not only serving children, but providing multiple measures of support to increase quality care and programming for young children in the communities we serve.