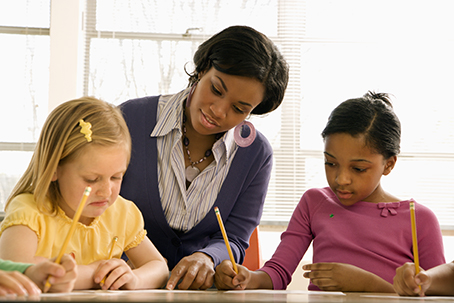 Luthercare for Kids knows that the right teacher makes all the difference for both your child and you.
Each classroom is staffed with a consistent teacher who knows the children and the classroom routines. All team members receive annual training in health & safety practices, CPR and pediatric first aid as well as 20 hours of training in child development and early childhood topics.
Relationships are at the core of learning in each classroom. Our teachers work to create a secure relationship with your child based on his or her unique personality and interests. Teachers use what they know about the children in their class to plan fun learning activities. Your child will feel safe to participate in the daily activities and know their ideas and questions are valued by his or her teachers.
Partnerships between families and teachers shape your child's experience.
Teachers regularly collect information on each child's learning and complete assessments over the course of the school year to ensure children are making progress in all areas. Families are asked to contribute to setting goals for their child and you can discuss your child's progress at any time during the year. We provide varied and on-going opportunities for the professional development of our team members and work to serve the larger community by creating a model of quality care that other agencies may draw upon to improve their quality of programming. Luthercare for Kids welcomes the opportunity to host tours, work study assignments, volunteer placements and practicum experiences for students in related fields of study. We seek opportunities to partner with other agencies to conserve public and private resources, while promoting the delivery of child and family related services to the communities we serve.