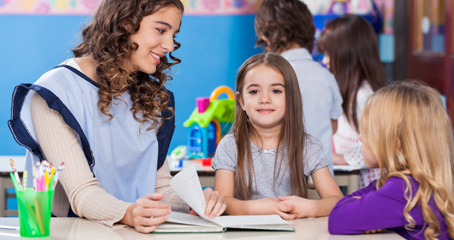 At Luthercare we know teachers make all the difference. We are committed to creating a work environment where teachers are supported to be their best. From their first day, we offer teachers mentoring on site and continuous learning opportunities throughout their time with Luthercare for Kids. We know having someone to turn to, even when you have many years of experience, is part of starting your journey off right.
Learning is at the core of the work we do with certified trainers on our team and two annual professional development days a year. Each center participates in the Keystone STARS quality initiative, where team members demonstrate a commitment to continually improving the quality of the care and learning provided at Luthercare for Kids.
Luthercare makes a distinctly unique commitment to the field of early childhood by sponsoring a range of programs for children, families, teachers and home providers while encouraging each center to be meaningfully engaged with their local communities. Luthercare is also the lead agency responsible for operating the innovative SAIL collaborative—a unique collective impact partnership funded by the United Way of Lancaster. We offer competitive benefits, a supportive team environment and the opportunity to rise to the challenge of a continuously evolving field. Interested in making a difference? Please click to view our current career opportunities or contact us today to learn more.